Long Island Youth Orchestra
Long Island Youth Orchestra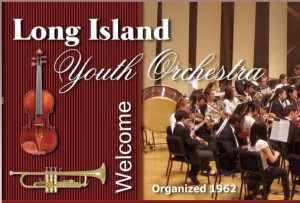 In residence at LIU Post:
720 Northern Blvd.
Brookville, NY 11518
Contact: 
Long Island Youth Orchestra
PO Box 295
Greenvale, NY 11548
Email: Long Island Youth Orchestra Email
Phone #: Phone – 516-299-3174
Website: Long Island Youth Orchestra
About:
The Long Island Youth Orchestra (LIYO) was created by Founder and Music Director Emeritus, Martin Dreiwitz in 1962. The orchestra held its first rehearsal in the cafeteria of the Willets Road School in Roslyn Heights in September of that year. The formation of this original 57 member ensemble, then known as the North Shore Youth Orchestra, was both an innovation and an experiment. The New York area had no permanent youth orchestras at that time and indeed there were just a handful in the entire nation. Today the nation boasts of over 150. Certainly no one could have predicted that LIYO membership would have grown to over 100 members – that the orchestra would have made more than 40 concert tours to the far corners of the globe – that it would have nearly 4,000 alumni, many whom play in some of the nation's finest orchestras or teach in schools throughout the area and country – or indeed that it would still be serving the talented musical youth of Long Island on a regular basis 54 years later. Today's Long Island Youth Orchestra has been in residence at Long Island University for the past 36 years, led successfully for the past 4 seasons by LIYO's second ever Music Director and Conductor, alumnus Scott Dunn.