Metropolitan Youth Orchestra of New York
Metropolitan Youth Orchestra of New York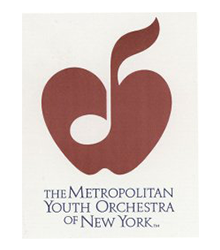 Work:
13 Myrtle Street, 2nd Floor
Manhasset, New York 11030
Work Phone: (516) 365-6961
Work Fax: (516) 365-6960
Email: [email protected]
Website: Metropolitan Youth Orchestra of New York
Biography:
The Metropolitan Youth Orchestra of New York (MYO) is committed to fostering a community of talented young musicians from Long Island and providing them with an opportunity to rehearse and perform choral and orchestral masterworks at the highest possible level with recognized leaders in music education and performance. Founded in 1993 by John C. McNeur, MYO has grown from a 15-piece orchestra to seven orchestras, a flute choir, and seven choral ensembles, serving over 1,000 musicians between the ages of 8 and 18. Over the past several summers, MYO has embarked on performance tours, including Central and Eastern Europe, China, the United Kingdom, and most recently to Spain in the summer of 2016.