Home

Welcome to the new Nassau Music Educators Association informational website!
---
Welcome to the
2018-2019

School Year!
---
2018-2019 NMEA Kick-Off:

Wednesday, September 12, 4:00 p.m.

at Borrelli's of East Meadow! 
1580 Hempstead Turnpike, East Meadow, NY 11554
You can register for this event by following this link: NMEA Kick-Off Dinner!
---
2018-2019 All-County Jazz Audition Information, click here!
---
For information regarding the
2018 PEAK Festival

, please click here!
---
All-County 2019 Rehearsal and Concert Dates and Times – Click here!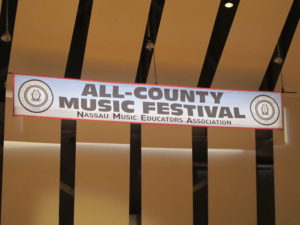 ---
Upcoming Events/Deadlines:
Wednesday, Sept. 12th

  – "Kickoff Dinner" at Borrelli's  in East Meadow at 4:30pm
Wednesday, Sept 26th 

– Div 2/3 Jazz Band and Div 4/5 Vocal Jazz Audition Registration Deadline
Monday, Oct 1st

  – Division 1-5 All-County Nomination Deadline
Wednesday, Oct 3rd

 – Div 2/3 Jazz Band and Div 4/5 Vocal Jazz Auditions
Wednesday, Oct 10th

 – All-County Selections at Massapequa HS Ames Campus, 4:00pm
Monday, Oct 15th

 – P.E.A.K. Nomination deadline
Tuesday, Nov 13th

 – "Honor Your Administrators" Night at The Milleridge Inn Cottage
Wed, Oct 24th:

Music Pick Up- Carle Place HS
Saturday, November 17th

 – P.E.A.K. Festival at Freeport High School
Chairpersons Meeting

:

Thursday, Sept. 27th, 4:30 p.m.

@ Columbus Ave School, 150 North Columbus Ave, Freeport, NY 11520
---
For information on the
2018-2019 NYSCAME Professional Development Workshop

series, please, click here.
---
NEW NYSSMA Manual for 2018

– Please only use this manual starting July 1.
---
For more information on the NEW NMEA app for IOS and Droid, please click
here! 
---
Click here for Nassau County Job Opportunities in Music Education!